Welcome to our website!
Here you can find info about us and our up-coming concerts. You can also order tickets, read about joining the choir and watch and listen our videos. Happy surfing!
Lue lisää >>
---
Listen one of the all-time favourites from our Christmas concerts.
Säde Bartling has arranged a classic song for Kilven Kuoro in 2004. Since then it has been a tradition in our yearly Christmas concerts Valoa! (trans. Light) in Uspenski Cathedral. Maa on niin kaunis is a familiar melody in many countries. In Finland it is one of the most loved songs we sing during Christmas.
Want to hear more?
Come to our concerts or watch more videos.
---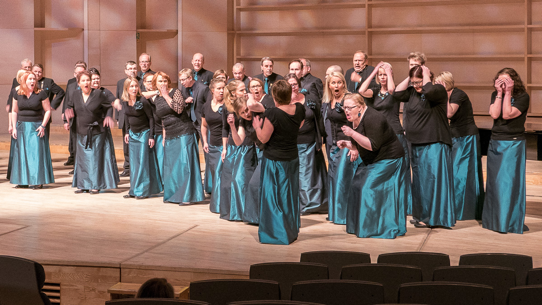 Want to sing with us?
Read info about joining the choir here. Main language of the choir is Finnish.
Right now we are especially looking for high sopranos and baritones, but other vocal ranges are welcomed to audition too.
Valoa! (trans. Light!) Christmas concert tickets available!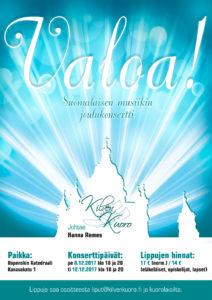 Since 2003 we have had the pleasure to sing our traditional Christmas concerts in Uspenski Cathedral to wonderful audiences.
This year, as Finland celebrates its 100th anniversary, theme of the concerts is Finnish Christmas music. We sing pieces by Finnish composers or songs that traditionally belong in Finnish Christmas celebrations.
Dates:
Fri 8.12.2017 at 18 (sold out) and at 20
Tue 12.12.2017 at 18 (sold out) and at 20
Ticket prices: 17 / 14 euros
Place: Uspenski Cathedral (Kanavakatu 1)
Get tickets here or via e-mail liput@kilvenkuoro.fi.
Welcome!